It seems obvious that co-operatives rely on cooperation, and manage it daily. However, co-operative research and management have yet to truly take advantage of the behavioral science of human cooperation and the findings of evolutionary biology and the social sciences. Dr. Waring will give a guided tour of the factors that drive cooperation and describe a research program to leverage the science of cooperation for the benefit of co-operatives anywhere.
Presented by: Dr. Tim Waring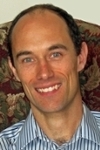 Dr. Tim Waring is associate professor of social-ecological systems modeling in the Mitchell Center for Sustainability Solutions and the School of Economics at the University of Maine. Dr. Waring studies how cooperation and culture determine social and environmental outcomes. Using economic experiments and agent-based simulations, he builds and tests evolutionary models of social and economic change to learn how sustainable behaviors and durable institutions arise and persist. He has led national working groups to develop and refine an evolutionary theory of sustainability and apply it to case studies around the world. Waring is also the recipient of a National Science Foundation CAREER grant on the evolution of cooperation in local food organizations, and he leads an international working group on evolutionary approaches to sustainability. His current work also explores the evolution of co-operative organizations.
The MacPherson Talks
The MacPherson Talks honour the late Dr. Ian MacPherson, one of the leading lights of the international cooperative movement. Historian, educator, author, and passionate co-operator, Ian personified the relationship between Canadian co-operative academics and co-op practitioners. The MacPherson Talks are held annually by the Canadian Centre for the Study of Co-operatives.
February 11  | 4:30 - 6:00 p.m.
Prairie Room, Diefenbaker Building
101 Diefenbaker Place, University of Saskatchewan
Please RSVP to coop.studies@usask.ca.