Shyla Wolfe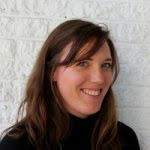 Shylah discovered her passion for cooperative community building through cooking, more than a decade ago. She has been involved in community organizing and the social economy ever since, through her work with nonprofits, cooperatives and the education & training program, CHNGR. She studied psychology at McMaster University and is currently completing a Masters certification in Cooperatives and the Social Economy at the University of Saskatchewan. She spent that last three years living on an organic farm that is also a community land trust in the Lanaudière region of Québec.
About the Hartley and Margaret Fredeen Scholarship
The Hartley and Margaret Fredeen Scholarship is offered annually to a student, entering or continuing studies in a master's or doctoral program at the University of Saskatchewan, who is conducting research on co-operatives. The successful applicant must have contributed to the development of his/her community as it relates to the study of co-operatives, which may include but is not limited to, working in developing countries, working with Habitat for Humanity, tutoring refugees and new Canadians, peer counseling, and projects that may contribute to peace in the world.